Back to Basics: The Light Attack Experiment Begins
This month at Holloman Air Force Base in New Mexico, an unusual event is occurring. For the first time since the end of the Vietnam era, the Air Force is conducting a flying experiment with combat aircraft. This nontraditional event, bringing together four major commands and three industry partners, was put together in only five months. The cost is in the single digit millions. Here, a mix of test pilots and operationally experienced aircrew are putting four light attack aircraft through their paces. The method? Experimentation. The objective? Learn. The Air Force is interested in assessing the potential of low-cost, commercially developed ground attack aircraft to conduct the kind of combat missions that have composed the vast majority of combat missions in the last 25 years. The light attack experiment is the first large-scale experiment of its type in decades.
Two years ago, this would have been impossible. The Air Force had no money appropriated for experimentation. Budgetary pressures imposed by the 2011 Budget Control Act took a toll across the board, affecting readiness, force structure, manpower, and research and development. But in the past two budgets, small amounts of money have been set aside for experimentation. The Air Force established a brand-new organization within Materiel Command — the Strategic Development Planning and Experimentation (SDPE) Office — to facilitate experimentation. Over two years SDPE has toiled in relative obscurity to rack up a series of small successes, focused on emerging weapons and tactics. The light attack experiment is the first full-scale, live fly event, with aircraft conducting representative missions on tactical ranges, complete with precision and non-precision weapons, aerial gunnery, and simulated targets, supported by terminal attack controllers on the ground.
The Air Force is below our minimum sustainable force size. We have too much mission and too little force. Maintaining sustained combat operations for 26 years has taken its toll. We have worn out our tactical aviation fleet, sacrificing readiness and size, and delaying modernization in the face of relentless demand for combat airpower. In order to successfully rebuild and re-train the force to handle major combat operations against a traditional, nation-state enemy, we have to get some breathing room. By switching the weight of burden to aircraft that are less expensive to purchase and easy to sustain and operate, we can shift the majority of day-to-day operations to aircraft designed for the kind of relatively low-intensity warfare that has characterized air operations since Operation Desert Storm. A push by experienced combat aviators for this class of aircraft has been brewing by nine years — but the lack of government-collected data has made this a hard sell. The experiment has provided an opportunity for U.S. Air Force and industry aviators, maintainers, engineers, and acquisition personnel to exit their comfort zones to engage in old-style, in-depth data gathering with the objective of creating a cadre of experimenters who are better-informed about modern, commercial aviation developments as they apply to combat aircraft. It's not business as usual, and many of the participants have jumped at the opportunity to be part of it.
For a service that has long become accustomed to expensive, high-performance jets, the experiment is an eye-opener. The Longsword, Super Tucano, and Wolverine aircraft use a powerful variant of the most popular turboprop engine in the world. The Scorpion uses advanced versions of commercial "bizjet" engines. All are fuel-sippers compared to the afterburning turbofans that equip all fighter aircraft. The turboprops are economical, low-maintenance, and resistant to damage from foreign objects. The slow speed of the turboprops is a feature, not a bug – slower aircraft can operate under low clouds and have an advantage when hunting small, elusive targets. The Scorpion is the only jet-powered participant. It can outrun any of the others despite being substantially larger and capable of carrying more payload. It's design features include a reconfigurable payload bay that allows the rapid addition of sensor capabilities that are impractical on a smaller airframe.
With over 100 experiment and training sorties flown, we have lost only three sorties to maintenance issues (all very minor), an availability rate that legacy jet fighters can't come close to. And to date, we have employed a wide range of munitions — two types of laser-guided bombs, Hydra rockets, free-fall "dumb" bombs, heavy machine guns, and the sparkly new AGR-20 — a lightweight, supersonic, laser-guided weapon that reliably hits within two feet of the aimpoint.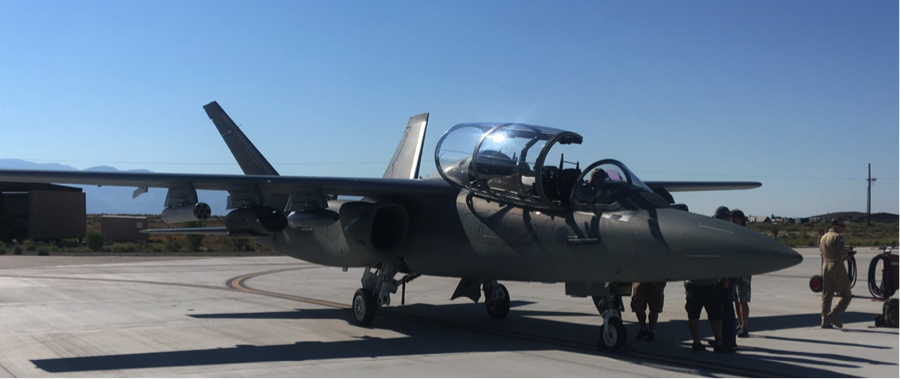 Data gathering is key. In addition to stacks of data provided by the manufacturers, experienced aviators are collecting data on everything from aircraft flight characteristics to how easy it is to employ weapons or how steady the aircraft are in a weapons delivery profile. We'll measure how hard they are to spot, how quiet they are, and whether they stand out to optical sensors that operate in spectra that our eyes can't see. We'll know how much fuel and spare parts were necessary for a six-week flying operation. And through an exhaustive and carefully designed survey system, we'll learn how the aircrew assess their performance, mission systems, ease of use, and suitability for combat operations.
The Air Force is often legitimately criticized for a byzantine requirements system, an acquisition process that can take decades, and a detachment from processes used by industry to bring products to market. This effort has the potential to break that paradigm in at least this small area, and thereby serve as a pathway for follow-on efforts. It's easy to demand programs that are faster, better, and cheaper — making those attributes real is problematic. Nevertheless, it is possible, and we are out to prove it. Experimentation is a sensible and cost-effective measure; expect to see more of it.
Col. Mike "Starbaby" Pietrucha was an instructor electronic warfare officer in the F-4G Wild Weasel and the F-15E Strike Eagle, amassing 156 combat missions and taking part in 2.5 SAM kills over 10 combat deployments. As an irregular warfare operations officer, Colonel Pietrucha has two additional combat deployments in the company of US Army infantry, combat engineer, and military police units in Iraq and Afghanistan. He is on the staff at Air Combat Command and is at Holloman AFB for the experiment. The views expressed are those of the author and do not necessarily reflect the official policy or position of the Department of the Air Force or the US Government.
Image: U.S. Air Force photo by Col Mike Pietrucha