Five Reasons Washington Should Rethink Selling Warplanes to Nigeria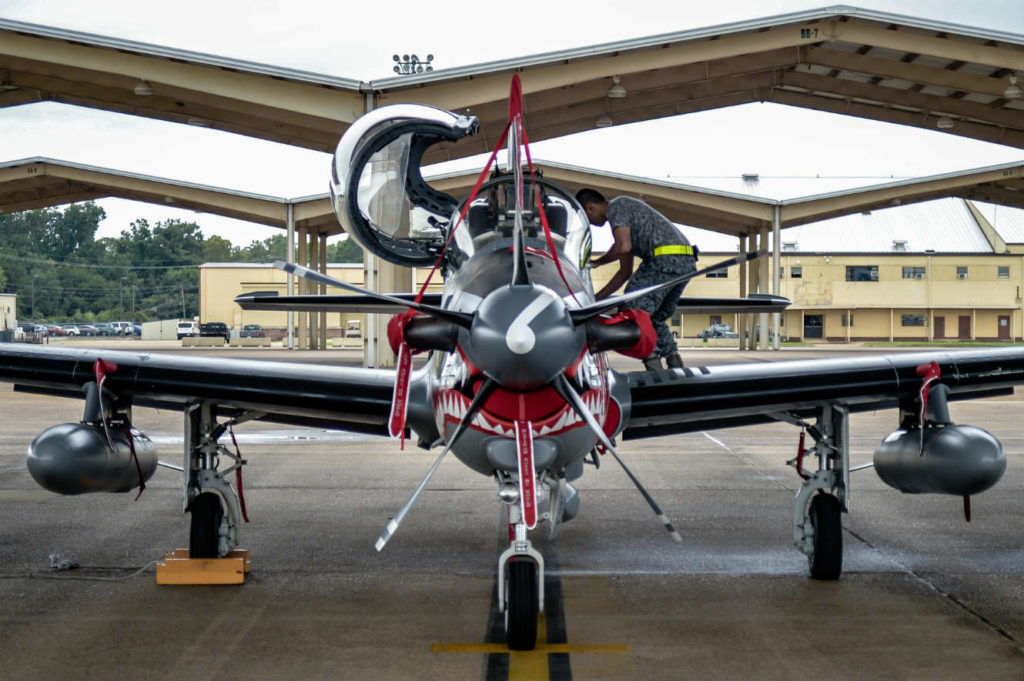 The Department of Defense will soon notify Congress it plans to sell 12 A-29 Super Tucano light attack aircraft to Nigeria. Both countries hope that the propeller-driven warplanes — tailored for counterinsurgency operations — will bolster Nigerian efforts to combat Boko Haram, one of the world's deadliest terrorist groups.
U.S. policymakers also want the sale to be a visible symbol of their strong desire to do more to help Nigeria combat terrorism. Unfortunately, the sale will be a Pyrrhic victory for five reasons: It is way too expensive, it undermines U.S. corruption policy, it overlooks recent human rights abuses, it won't help Nigeria fight the Boko Haram of tomorrow, and it won't foster closer defense cooperation.
Nigeria can't afford it.
For Nigeria, the cost of the planes is staggering, given that its economy is in deep recession and its currency, the naira, lost 50 percent of its value against the dollar over the last year. Based on similar deal with Lebanon, the sale — which probably includes munitions, spare parts, and a maintenance package — may total over $500 million: roughly half of Nigeria's 2016 defense budget and over twice as much as the Nigerian Army's entire annual salary bill.
U.S. policymakers should recognize that the government of President Muhammadu Buhari —even if it wants to buy the planes — has many other more pressing humanitarian and socioeconomic needs. In northeast Nigeria, for example, over two million internally displaced people are threatened by famine and disease. Acknowledging the country's fiscal constraints, Nigeria's Senate President, in August 2016, called for more international financial and logistical help to address crisis and to reconstruct the region so it is no longer the "perfect breeding ground for Boko Haram." In lieu of costly warplanes, Nigeria would be wise to invest half of a billion dollars in its marginalized northeast to address long-term drivers of conflict like chronic underdevelopment, poverty, and food insecurity.
Beyond the northeast, Nigeria could use $500 million to help remedy a litany of other problems. It could begin resuscitating its failing universities, fixing its dilapidated public hospitals, or constructing solar-powered mini-grids in thousands of rural communities. Nigeria — a country of over 170 million people that generates as much power as the city of Edinburgh — desperately needs dozens of new power plants.
It sends mixed messages on corruption.
Sticker shock aside, the sale undermines statements by President Barack Obama, Secretary of State John Kerry, Attorney General Loretta Lynch, and Treasury Secretary Jacob Lew that helping Nigeria fight corruption is a top U.S. policy priority. The U.S. effort to sell weapons to the Nigerian Air Force — whose last three chiefs, along with several other of its top officers, are currently on trial for embezzlement and procurement fraud — is incongruous with U.S. rhetoric. Nigerian Air Force corruption is not ancient history: The senior air force officer who the U.S. Defense Attaché brought to Washington in July 2015 to discuss the Super Tucano sale has since been charged with corruption. Furthermore, it is not clear that the Nigerian Air Force become any more transparent about its finances, procurement, or contracting processes over the last year.
Washington's other partner in the deal — Brazilian aircraft manufacturer Embraer — just last month agreed to pay $205 million in fines to resolve criminal violations of the Foreign Corrupt Practices Act. Embraer admitted that it bribed officials to sell Super Tucanos to the Dominican Republic and other aircraft to Saudi Arabia, Mozambique, and India. Brazilian authorities, meanwhile, have charged several former top executives at Embraer with corruption and money laundering in connection with the sale of Super Tucanos to the Dominican Republic.
It overlooks Nigerian military human rights abuses.
U.S. policymakers have repeatedly voiced their concerns about the Nigerian military's human rights record. In September 2013, a State Department spokesperson said:  "We continue to emphasize…that abuses by the [Nigerian] security forces undermine our security goals," noting that President Obama had discussed the issue with then-President Goodluck Jonathan.
In May 2014, Undersecretary of State for Civilian Security, Democracy, and Human Rights Sarah Sewall told Congress that "some fifty percent of the Nigerian military, at this point in time, are not eligible" for training and materiel support because of the Leahy Amendment. In 2015, the United States declared Nigeria in violation of the Child Soldiers Prevention Act, citing the use of underage boys by a government-sponsored militia.
Even though the Nigerian air force has a better human rights record than the army, policymakers have long debated whether the Nigerian Air Force is doing enough to minimize civilian deaths. As recently as May 2016, Assistant Secretary of State for African Affairs Linda Thomas-Greenfield specifically mentioned U.S. concerns over Nigeria's use of airpower in her testimony to the Senate Foreign Relations Committee:
Last year you will know that we turned them [the Nigerian government] down for Cobras [attack helicopters] because we were concerned about their ability to use those and not have them have an impact on their communities…
The decision to block the sale angered Nigerians and some U.S. officials, but it took place only a few months after Nigerian warplanes bombed and strafed residential areas during a joint operation that killed several hundred military detainees that escaped in a March 2014 jailbreak.
Yet, the Super Tucano sale suggests that Washington's concerns about Nigerian military abuses have waned over the last year, despite the Buhari government's own mixed record. In December 2015, soldiers reportedly perpetrated gross human rights violations during in two separate military crackdowns in Zaria and Onitsha. The Buhari government also has not prosecuted anyone involved in the grisly deaths, between 2011 and 2014, of thousands of detainees from starvation, torture, and disease at the Giwa Barracks military prison. Such deaths continue to occur at there, albeit at a slower pace, according to human rights groups. Just last month, the United Nations Children's Fund revealed that the military was detaining hundreds of children at Giwa Barracks.
Boko Haram isn't especially vulnerable to airpower.
The Super Tucano, seen here conducting live fire exercises, is devastatingly effective in the right operational context. In Brazil, the government used it to destroy drug smugglers' hideouts deep in the jungle. The Colombian Air Force used the Super Tucano over the last decade to strike targets across large parts of the country controlled by the Fuerzas Armadas Revolucionarias de Colombia (FARC) insurgent group. Afghanistan's fledgling air force is using its 20 new Super Tucanos to provide close air support to its troops and to strike concentrations of Taliban in the country's restive south.
Boko Haram, however, is a more slippery target than the Taliban, FARC, or narcotraffickers' Amazonian airstrips. The Super Tucano's unique capabilities might have been handy two years ago, when Boko Haram controlled large parts of three northeastern states. Even then, however, terrorist-held towns and villages housed many civilians. Experts agree that new warplanes will be less effective now that the group has dispersed and is once again operating clandestinely and conducting asymmetric attacks. Boko Haram fighters no longer operate en masse and many have taken refuge in remote communities in the Mandara Mountains or on the islands of Lake Chad. Even the Sambisa Forest — the group's traditional stronghold — is not well suited to aerial bombardment. As this footage from a Nigerian air strike shows, hundreds of camp followers — mostly women and children — live among the terrorists sheltering there.
Past arms transfers to Nigeria haven't fostered closer bilateral defense cooperation.
The United States and Nigeria have a long but rocky history of bilateral military engagement, which increased markedly after Nigeria's 1999 return to civilian rule. There is little evidence to suggest that U.S. arms transfers have been valued by the Nigerian military and some have become albatrosses in the relationship.
Washington's sale of C-130 military transport planes to Nigeria in the 1970s is a prime example, having been more a source of irritation than goodwill over the years. Despite being relied upon to ferry troops around Nigeria and to regional peacekeeping deployments, the Nigerian air force neglected to properly maintain the aircraft for years. One C-130 crashed in 1992, killing 163 and others were cannibalized for parts. Washington has repeatedly provided funds and technical assistance to ensure Nigeria's C-130s have the spare parts and routine maintenance they need to stay airborne.
Likewise, Washington's 2015 gift of 24 hand-me-down Mine Resistant Armored-Protected (MRAP) vehicles did not seem well received. The Nigerian press quoted anonymous military sources who called the MRAPs "carcasses" and "Greek gifts". U.S. officials admitted the vehicles needed some work, reportedly saying:  "The repairs of the vehicles are up to the Nigerian government…We have not done the estimate of what it will cost the Nigerian government to fix the vehicles."
If not the Super Tucano, then what?
If Nigeria has its heart set on spending $500 million on counterterrorism gear, it could get a lot more for its money than a squadron of Brazilian-American turbo-props. It could, for example, buy twice as many MI-35M (Hind E) Russian-made attack helicopters. Nigeria already operates the MI-35M, a versatile tool that weapon that is rugged, well-armored, and now available with state-of-the-art avionics. Or it could train and equip a scout sniper company to gather intelligence and conduct surgical strikes inside Boko Haram's Sambisa Forest, Lake Chad, and Mandara Mountain safe havens. It might even consider investing in a vast array of "spy rocks", unattended ground sensors capable of covertly monitoring human and vehicle movement in remote areas.
Washington, for its part, needs to rethink its military engagement strategy with Nigeria. It needs to make battalion-level training and major equipment transfers contingent on tangible efforts by the Nigerian military to address its human rights deficiencies and make its security spending more transparent and accountable. At the same time, the United States should expand the scope and scale of its lower-level engagement by doing things like tripling Nigerian participation in the International Military Education and Training program or sending U.S. military doctors to spend a year teaching their Nigerian counterparts about treating battlefield casualties. Doing so would demonstrate Washington's lasting commitment to help make Nigeria more secure without compromising core U.S. principles.
Matthew T. Page was until recently the State Department's top expert on Nigeria. He also worked on Nigeria at the Department of Defense and for the U.S. Marine Corps. Matthew now advises Transparency International's Defense and Security Program and is a co-author of Nigeria: What Everyone Needs to Know, forthcoming from Oxford University Press next year. Follow him on Twitter @MatthewTPage or at nigeriaknowledge.com
Image: U.S. Air Force photo by Senior Airman Mozer O. Da Cunha